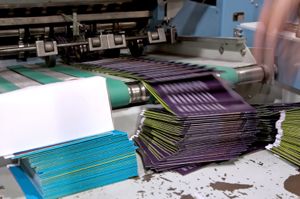 Diego & Son Printing is one of the most highly respected printing businesses in Southern California. Our Personal Guarantee means just that: your satisfaction is guaranteed. We understand the complexities of each individual client's needs and that your printed piece is a very important visual element of your company.
The following is a list of some of the products and services we can provide to you. Please feel free to contact us if you have any questions.
We look forward to working with you!
Products
Services
Digital Printing NEW!

We've gone Digital! We are now running our new HP Indigo digital press. This press gives us more flexibility for short and mixed runs, at a much more competitive price and a faster turn-around time. It also rivals the quality of the offset press-delivering rich, vibrant colors.

Foil Stamping & Embossing

VDP - Variable Data Processing NEW!

With our NEW HP Indigo digital press individual names can be printed on your piece, which allows you to speak directly to your customers. In addition, using data such as their gender or past purchase history, you can mail targeted information only to the right recipients, which optimizes your marketing investment.