Sign up for our e-newsletter and your next cup of coffee may be on us!
Diego & Son Printing + More!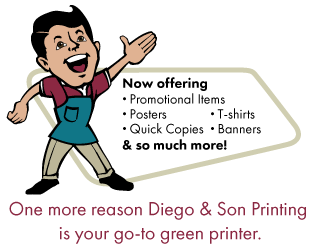 We are here to meet all of your printing needs, plus so much more!
We understand you're busy throughout the day and we want to be your answer to easily marketing your business. We offer offset and digital printing with a full bindery department.
If you need promotional items check out our online catalog for a wide range of ideas to help you stand out from your competition. Click here for our online catalog!
Need banners, signs, posters, copies? Don't look any further, we can help.
Diego & Son Printing is NOT going green...WE'VE BEEN GREEN! Environmentally friendly printing has been part of our business since 2002, which means we support the highest social and environmental paper standards. We are also members of the Green Suppliers Network and use only vegetable based inks. We recycle 100% of our paper waste from the front office to the press room and have significantly reduced our water consumption by 96,000 gallons last year by using process-less plates.
We're less than a mile from downtown San Diego and offer FREE delivery to the convention center and hotels.
We are certified SDVOB, DVBE, MBE, DBE, Small Business, SLBE and HUBZone
 
Need help on your next project, just let us know.
Sign-up for our newsletter to receive discounts, marketing tips and information on the latest cool promo items.
Digital Diego Latest News